Chicago Boxing Club member,
Andrew Golota
(41-8-1) trained with his personal boxing coach Sam Colonna. Colonna has said that Golota posessed "unbelievable talent " and when focused could fight with anyone in the world.
Trainer Rick Ramos works the pads during a private training session with Chicago Boxing Club member Nick Casal as he prepared for a bout.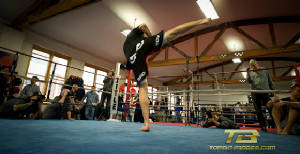 CHRIS WEIDMAN TRAINS AT CHICAGO BOXING CLUB BEFORE AN MMA EVENT IN CHICAGO